Heritage Slate Roofing is Sydney's leading architectural roofing company. Offering a wide range of services, including complete re-roofs and restorations of both heritage and modern building designs, Heritage Slate roofing prides itself on having exceptional attention to detail and working to ensure the best finished results.
Heritage Slate Roofing is Pathzero's newest carbon neutral company. Embodying an ambitious approach, Heritage Slate Roofing is now starting to implement reduction initiatives as they progress on their journey to net zero emissions. We spoke with Jackson McIntyre, Senior Media Planner at Heritage Slate Roofing, to learn about his experience with Pathzero. Here's what he had to say.
What trends in your industry drove the need to use our product?
We noticed a common trend in sustainable building practices seen amongst architects, builders & engineers. A big push for us to go carbon neutral was that many slate suppliers overseas were established carbon neutral companies and our story just makes so much sense to be sustainable from supply to installation.
What were you looking for in a solution?
We were looking to 100% offset our carbon and contribute to Australia's goal of being Carbon Neutral by 2050. By doing our part, hopefully, other roofing companies can follow suit in the solution to a global crisis. It's also a great platform for us to establish achievable goals to reduce our future carbon emissions.
What made Pathzero stand out over others that you researched?
Pathzero looked like a fresh new company with great leaders and a great platform that was easy to use and navigate.
What have you been most impressed with? Has this solution resulted in any changes to your business?
The overall platform and how it made it very clear on what we can do in the future to reduce our overall emissions and various outlets you can focus on within your organisation.
Is there anything within the platform that surprised you, or that you found to be an unexpected benefit?
The simple, easy to read interface was great. Especially for someone that's new to the platform.
Now that you are carbon neutral, are there any environmental goals or targets that you hope to achieve through the help of our platform?
Now that we have identified and understood our largest emission sources, we are working to reduce them through implementing reduction initiatives. Some of these include:
Car Travel - Non-Company Owned Vehicles represents a significant portion of the emissions of Heritage Slate Roofing Pty Ltd. To reduce these, we have kicked off a staff engagement program to provide more information to reduce emissions. This includes Carpool.

Company owned vehicles represent a significant portion of the emissions of Heritage Slate Roofing Pty Ltd. To reduce these, we have started another staff engagement program to provide more information to reduce emissions. This includes Minimise A/C use, No idling, Train staff, and Service vehicles regularly.
As a carbon neutral organisation are there any benefits that you now experience, or anticipate to experience?
It's going to be a significant advantage for us as a slate roofing company as we are now leaders in certified sustainable roofing in a very niche market. It hopefully will let us connect with sustainable construction leaders and grow connections with them.
What would you say to someone considering using Pathzero?
I'd say it's a great platform that makes getting your head around becoming carbon neutral quite simple and easy with leaders that navigate your journey through the process efficiently. I'd highly recommend it :)
Heritage Slate Roofing is a carbon neutral company. You can view their climate action report here.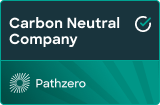 Interested in starting your own climate journey and becoming a carbon neutral company? Schedule a demo to learn more about Pathzero and how your company can take action.