Do you ever wonder what the impact of using your mobile phone, streaming services, or internet browsing has on the environment? Each day, we upload and transfer more data to the cloud; 90% of data was created in the last two years. As we increase the amount of data that we create and transfer our reliance on cloud computing services increases.
This article explores the impact of our dependence on the internet, the use cloud computing services for data, how current providers are reducing their environmental footprints, and how individuals and organisations can reduce their own impacts.
For every minute in 2020, over 41 million WhatsApp messages were sent; 208,333 participants were hosted in Zoom meetings; 404,444 hours of video were streamed by Netflix users; and 347,222 stories were posted on Instagram [1]. Our reliance on internet services continues to increase year on year, with 4.66 billion active internet users around the world currently [2]. It has been estimated that 1.7MB of data was created every second by every person in 2020 and 463 exabytes of data will be generated each day by 2025 [2].
Data is an integral part of our society and as we expand our digital lifestyle, data generation will continue to increase. Each year, we generate more data, which is stored and transferred through offsite facilities around the world called data centres. Data centres have high energy demand requirements to keep all equipment cool and operating efficiently. Globally, data centres account for 1% of energy demand [3].
Accelerated by impacts from COVID-19, we have further seen an increase in home internet usage and specifically the use of video conferencing facilities. Worldwide home internet usage is increasing by 15 to 40% due to stay at home orders, requiring up to 42.6 million MWh of extra electricity annually [4]. It has been estimated that increased internet usage due to the pandemic has increased emissions by up to 3.2 million metric tonnes of carbon dioxide equivalent [4].
With the high energy consumption required for data centres and our growing dependence on these centres, what does this mean for our impact on the environment?
Carbon Footprint of Internet Use
When we send a text message, Skype one of our colleagues, or FaceTime a friend, our data is being sent and transferred through a data centre. Data centres draw a large amount of energy and the environmental impact of each centre is highly dependent on the location of the data centre. Data processing and storage is not location dependent and may not always occur in the country where the data is being used.
The environmental impact of data centres can be broken down into three key footprint areas with impacts for each outlined below [4]: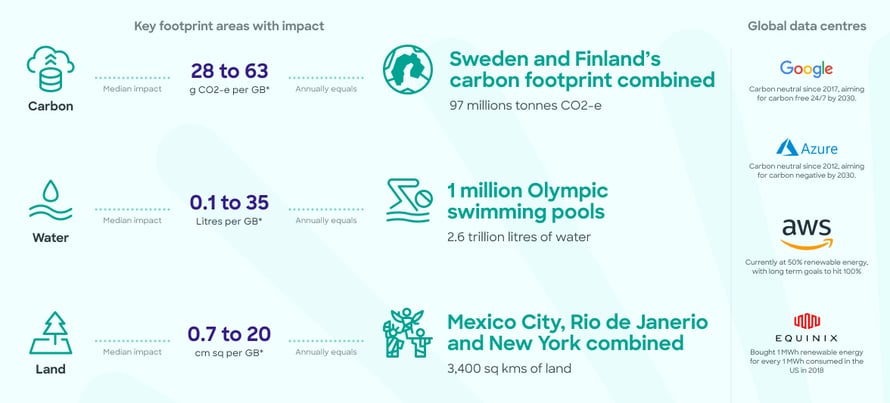 Further, a study by the Purdue Climate Change Research Centre found that one hour of videoconferencing or streaming emits 150-1,000 g CO2-e and requires 2-12 litres of water at a data centre [4]. The environmental impacts from our internet usage is quite significant and this is expected to grow into the future.
Data Centres Around the World
Given the large environmental footprint of data centres, many large providers have implemented sustainability policies to reduce their environmental impact. Some examples are:
Google
All data centres have been carbon neutral since 2017 as Google purchases enough renewable energy to match 100% of global electricity demand.
Google has made a commitment to operate on 24/7 carbon-free energy in all data centres and campuses worldwide by 2030. Google has contracted more than 5GW of renewable energy generation since 2010 [5].
Microsoft Azure
Through offsets and reductions, Microsoft Azure data centres have been carbon neutral since 2012. Microsoft has committed to becoming carbon negative by 2030 and removing all historical carbon generated by 2050.
Azure is expected to shift to 100% renewable energy sources by 2025 and be water positive by 2030 [6].
Amazon Web Services (AWS)
AWS has a longterm commitment to power data centres with 100% renewable energy. Currently, data centres use about 50% renewable energy [7]
Equinix
Equinix purchased 1 MWh of renewable energy products for every 1 MWh consumed for all US data centres in 2018. This was completed for over 90% of worldwide electricity consumption by Equinix [8].
What Can Individuals Do?
At an individual level, to reduce our overall impact, we can be more cognisant of our internet usage. We can make the following small changes to promote sustainable digital behaviour:
Reducing the quality of your streaming service
Decreasing gaming time
Deleting unwanted files from cloud storage spaces
Cleaning up your email account
Unsubscribing from unwanted emails
Be mindful of the time you spend on social media
Limit the amount of posts and stories shared on social media
The less you upload, send, and receive the lower your environmental impact will be. Individuals can also actively track phone screen time to become more aware of time spent on various apps. Not only is this beneficial to your mental health but will further reduce your digital environmental impact.
What Can Organisations Do?
Remote working will continue to place additional pressure on data centres globally. Organisations can support the following initiatives to reduce the impact of increased reliance on data centres:
Commit to measuring your emissions (you can try our free emissions calculator here)
Develop a pathway to Net Zero emissions
Purchase Green Electricity or Renewable Energy certificates to offset energy consumption from cloud computing services (if not already carbon neutral)
Encourage staff to turn video cameras off during meetings
Review your cloud computing service provider to see if you can switch to a more sustainable or carbon neutral provider
Optimise storage of files and documents
Opt for a sustainable host provider which can provide eco-friendly hosting
Optimise your business website to run more efficiently
Organisations are well placed to develop plans and policies to support a reduction in overall energy consumption from data centres. Not only will this provide financial benefits from the reduction of costs associated with the use of data centres but will further reduce the organisations environmental impact.
References:
[1] https://www.domo.com/learn/data-never-sleeps-8
[2] https://techjury.net/blog/how-much-data-is-created-every-day/#gref
[3] https://science.sciencemag.org/content/367/6481/984
[4] https://www.sciencedirect.com/science/article/abs/pii/S0921344920307072?via%3Dihub
[5] https://services.google.com/fh/files/misc/google_2019-environmental-report.pdf
[6] https://azure.microsoft.com/en-au/global-infrastructure/sustainability/
[7] https://sustainability.aboutamazon.com/environment/the-cloud?energyType=true
[8] https://sustainability.equinix.com/wp-content/uploads/2019/12/Sustainability-Report-2018.pdf
For more information on environmental impacts, read our previous blog, Why measure your carbon footprint, to discover the importance and benefits of measuring your impact.
Or, if you'd like to learn more about how Pathzero can help your business reduce emissions, schedule a call with one of our friendly consultants today.