On the 9th of August, 2021, the Intergovernmental Panel on Climate Change (IPCC), released the first instalment of its Sixth Assessment report, Climate Change 2021: The Physical Science Basis. The report, described as "a code red for humanity" by the UN Chief, is a comprehensive climate report and is the 'most up-to-date physical understanding of the climate system and climate change'. IPCC
The report confirms that climate change is widespread, rapid, and intensifying. Since the report's publication, there have been an abundance of articles talking about our dire situation. However, we at Pathzero wanted to take a step back to unpack the basics of the report, what it means for our future, and how it will impact organisations.
Over the last few weeks we have seen fires raging across Greece, Turkey, Algeria, California, and British Columbia. We have seen floods ravage Italy, China, and Germany. We have seen record temperatures set in Canada, the Pacific North-West and Russia. We have seen extreme weather events from dust storms in China to record rainfalls in India.
The first half of 2021 ranked as the eighth warmest on record. These extreme weather events are expected to continue around the world and in some cases even get worse. This is just one of many findings from the latest report released by the IPCC. Reaching net zero emissions is now more important than ever.
Below we explore some background information on the IPCC and its assessment reports, key findings from the latest report including why a 1.5oC world is so important, and how we can do our part to help. There has been lots of news lately around our impending doom, but don't worry there is still time for change. The difference is that we must act now.
Background Information
What is the IPCC and what do they do?
The Intergovernmental Panel on Climate Change (IPCC) is the United Nations body for assessing the science related to climate change. Established in 1988, the body has published numerous reports with scientific information aimed at understanding human-impacts on climate change. The IPCC was created to provide policymakers with regular scientific assessments on climate change, its implications and potential future risks as well as to put forward opportunities for adaptation and mitigation.
The IPCC is made up of three working groups a Task Force and a Task Group. Each working group focuses on a different area of climate change: physical science, socio-economic and natural systems, and mitigation.
What is an Assessment Report?
The IPCC does not conduct its own research. Instead, it works to complete a review of all relevant published literature to provide a comprehensive overview of our current understanding of climate change. Assessment reports are compiled by thousands of scientists and are then reviewed by government bodies. By following a rigorous review process, reports published by the IPCC are internationally accepted and used to drive policy frameworks surrounding climate change.
Since its inception, the IPCC has published 5 assessment reports. Reports are generally published every 5 to 7 years, with the 6th assessment report expected to be published in 2022. Between the publication of the 5th Assessment Report and expected publication of the 6th Assessment Report the IPCC also published the following reports:
Terminology Used in Assessment Reports
It is important to note that climate science is not always 100% accurate. However, as technology improves and we learn to understand earth's systems better, scientists can more accurately predict changes we may see in the future.
Findings in assessment reports are reported in a way that takes both confidence and likelihood ratings of all findings into consideration. Confidence is expressed using "very low", "low", "medium", "high", and "very high" ratings. These terms outline the authors' judgement with respect to the validity of evidence provided and agreement and are summarised in the table below.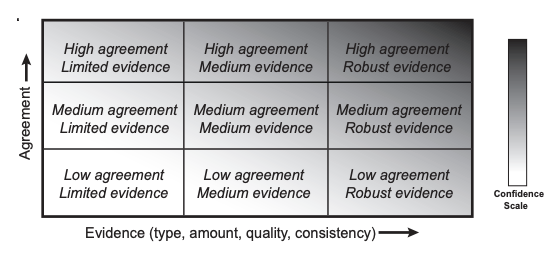 Likelihood is expressed based on the following scale: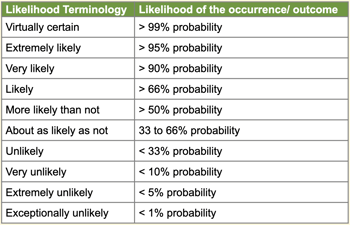 It is common to see statements within the assessment reports reported based on likelihood of the outcome occurring. For example, the Working Group 1 (WG1) 6th assessment report states:
"It is virtually certain that the global upper ocean has warmed since the 1970s and extremely likely that human influence is the main driver. There is high confidence that oxygen levels have dropped in many upper ocean regions since the mid-20th century, and medium confidence that human influence contributed to this drop."
Sixth Assessment Report
The first instalment of the sixth assessment report was published by the IPCC on 9 August 2021. This report outlines the Physical Science Basis for climate changes we are currently seeing, many of which are unprecedented. This report uses the most up to date global climate models. Overall, the report demonstrates that unless there are rapid and large-scale reductions, it is unlikely that we will be able to limit warming to 1.5oC or even 2.0oC.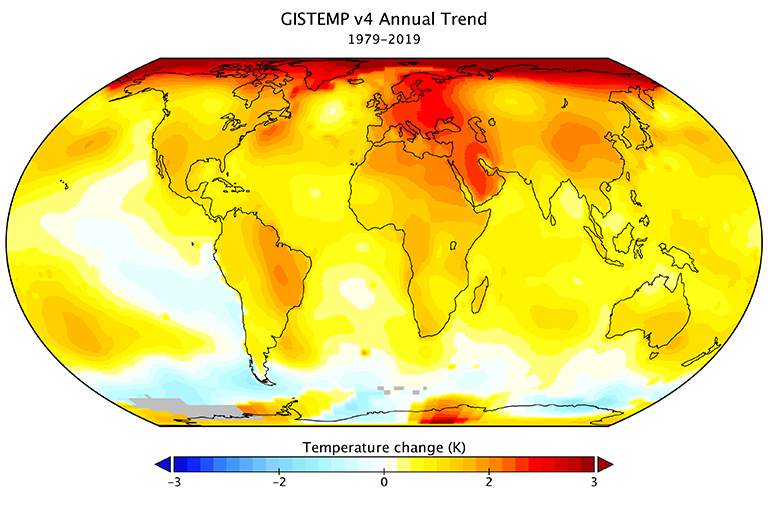 Global surface temperatures have already started to increase as can be seen from the above trend map for the period from 1979 to 2019.
For the first time, the sixth assessment report also provides regional analysis. This information can support regions around the world develop sound adaptation and mitigation strategies to future impacts from climate change. Regional information can be viewed through IPCC's new Interactive Atlas.
Why is the Sixth Assessment Report significant?
Although the full Sixth Assessment Report is not expected until 2022, the publication of the first instalment of the report from WG1 represents a critical juncture in climate science. This report outlines the most up-to-date understanding of climate systems and climate change through the lens of physical science.
The messaging in the newly published report is clear, we are on a trajectory of irreversible change. Human activities have unequivocally caused the atmosphere, ocean, and land to warm at a rate that is unprecedented in at least the last 2000 years. This has led to widespread changes across earth's systems. Global surface temperatures were 1.09oC higher in 2011-2020 than 1850-1900 (representative of pre-industrial conditions) and human activities are responsible for 1.1oC of warming since pre-industrial times.
Each of the last four decades have been warmer than the decades before it, where as shown in the image above, 2010-2019 was the warmest decade on record. Human-induced climate change is further responsible for extreme weather events and climate extremes including hot extremes, heavy precipitation, and droughts seen in regions around the world.
What does this mean for the future?
The sixth assessment report outlines a set of five new emission scenarios based on Shared Socio-Economic Pathways (SSPs). These scenarios cover a range of possible futures with broad narratives covering future energy use, air pollution control land use, and greenhouse gas (GHG) emissions. Each scenario uses a different level of radiative forcing - the difference between incoming and outgoing energy on Earth's surface - that is expected to be seen at the end of the 21st century based on outcomes from the scenario.
Scenarios are derived from current and expected future policy around greenhouse gas emissions management and vary depending on strategies applied as follows:
Pathway
Title
Key Characteristics
SSP1 - 1.9
Sustainability

Warming levels reach 1.5oC above 1850-1900 levels in 2100 after a slight overshoot
Net zero CO2 emissions are achieved by 2050

SSP1 - 2.6
Middle of the Road

Warming stays below 2oC by 2100
Net zero CO2 emissions achieved in second half of century

SSP2 - 4.5
Regional Rivalry

Emission reductions approximately in line with upper end of the combined Paris Agreement pledges
Estimated warming of 2.7oC by 2100

SSP3 - 7.0
Inequality

No additional climate policy is enacted
Particularly high non-CO2 emissions released including aerosols

SSP5 - 8.5
Fossil-fulled development

No additional climate policy is enacted
Economy is still fossil-fulled
Each scenario leads to a a different mean global surface temperature by 2100 as can be seen in the image below: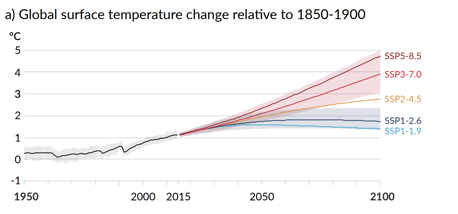 So why is 1.5oC so important and does a temperature increase of 0.6oC really matter?
In its 2018 Special Assessment Report (SAR), the IPCC outlined that human activities had caused warming of approximately 1.0oC above pre-industrial levels. The report further emphasised that global warming was likely to reach 1.5oC between 2030 and 2052 if business-as-usual activities continued.
Previous to the SAR, the IPCC had warned that global warming above 2oC would have detrimental impacts on global systems. The Paris Accord agreement reiterated this by creating a goal to keep global temperatures "well below 2°C above preindustrial levels and pursuing efforts to limit the temperature increase to 1.5°C above pre-industrial levels".
However, the SAR and now the sixth assessment repot emphasise that climate-related risks for both natural and human systems even under a 1.5oC scenario would be detrimental including risks to health, livelihoods, food security, water supply, human security, and economic growth. Limiting global warming to 1.5oC is now seen as imperative by climate scientists around the world, where further increases in global surface temperature will have detrimental effects worldwide.

The following infographic from the Climate Council of Australia, highlights the key impacts of a 1.5oC world versus a 2oC world.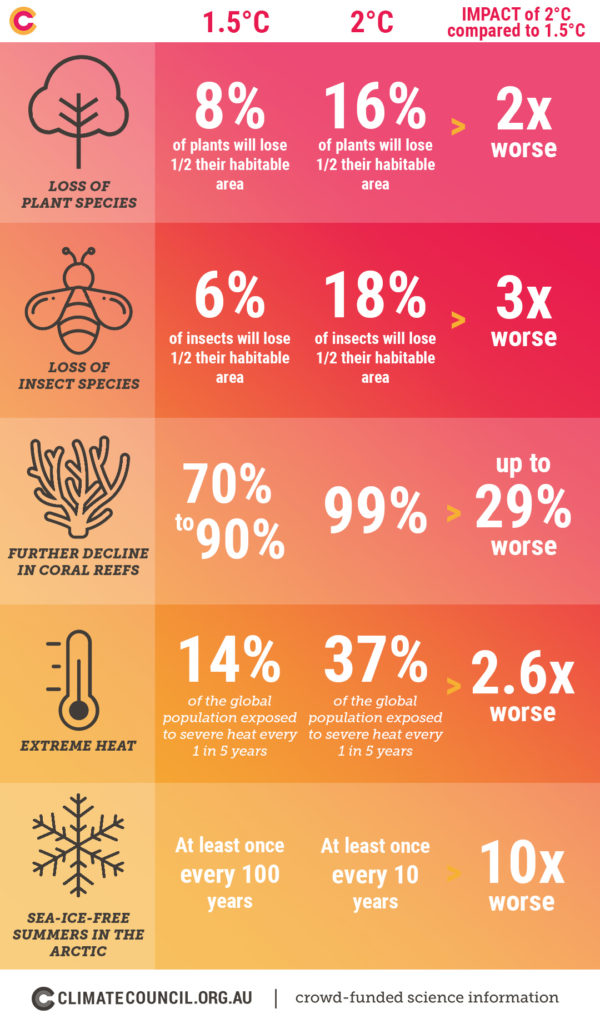 Specifically Australia will further experience:
Continual sea level rise
More frequent and longer fire seasons
Heavy rainfall and flooding
An increase in droughts across Eastern Australia if warming exceeds 2oC
Worsening drought conditions in southern Australia
Fewer days of rain but heavier rains when these days do occur
Under all emissions scenarios global surface temperatures are expected to continue to rise to 2050 with at least 1.5oC of warming expected to occur. This is our best possible future. With any further warming, impacts will be further exacerbated - we must work to prevent any further changes.
Following the worst case scenarios, global temperatures could rise up to between 4.4oC by 2100.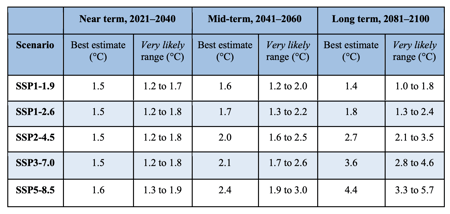 The impacts from even a 1.5oC world are going to be far reaching and widespread. Climate change impacts are already affecting regions around the world. To prevent further changes we must act now and reduce our emissions as much as possible in order to achieve a net zero future.
Why is 2030 so important?
Under the new assessment report, under all of the scenarios outlined above, it is estimated that we will reach 1.5oC in the early 2030s. By 2030 there is a 40-60% chance that any given year will be more than 1.5oC hotter than pre-industrial levels (medium confidence). Even if we were to stop all emissions today, compounding impacts from overtime will still cause shifts in global systems including sea level rise of 0.7-1.1m by 2030.
2030 will be a pivotal year for climate change as action up to this year will determine the course to 2100. There is no going back from some of the climate changes we have already seen but some could be slowed and some stopped by limiting emissions as much as possible going forward.
Don't we have until 2050 to act?
According to the latest climate projection models, quite simply we have to act as much as possible and as fast as we can now. Limiting climate impacts into the future hinges on us doing something today. This will be dependent on development of innovative technology including large-scale carbon removal technologies, which don't yet exist today.
Many organisations have set net zero targets for 2050 and beyond. However, this will be too late. By 2050, we will have already reached global surface temperatures of between 1.6-2.4oC (depending on the scenario), which means that there will be further irreversible changes to all of our systems. If the world adopted targets equivalent to Australia's climate targets and policies, we would be on track for warming of between 3-4oC by 2100.
Reaching net zero needs to occur much earlier than what most organisations are aiming for. For Australia to do its share, net zero targets would need to be met by 2030. This means that we need to push forward with policy, technology development, and decarbonisation strategy as soon as we can.
Don't worry - there is still some hope but we need to act NOW!
Under all emission scenarios global surface temperatures are expected to continue to rise to at least 2050. Many of the impacts we see today are a result of emissions that were emitted into the atmosphere many years ago, this is due to the lag that occurs with changes to the climate.
Therefore, changes we implement now will impact our future as well as that of future generations. If we act now, we can limit further increases and limit warming to 1.5oC. The next ten years are imperative to achieving this change and the time to act is now. So what can we do to help?
What can organisations do?
Although the findings of the IPCC report may seem confronting, the report does a great job emphasising the need to act and profound impacts we can see if we start acting now. Actions from organisations can collectively drive change and reduce the impacts of future climate change. In order to meet the SSP1-1.9 emissions scenario, tangible action on net zero is needed across the board and soon.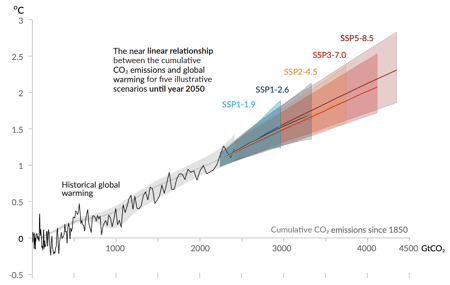 Specifically, in Australia, government inaction has led the country to be ranked one of the worst, or the Back of the Pack, with respect to reducing emissions and meeting reduction targets. This means that it is up to organisations to step up, challenge the status quo, and drive the change to net zero.
Setting Tangible Targets and Decarbonisation
The world is turning towards organisations to step up and work to reduce emissions. As individuals, there are great steps we can take to live more sustainably (stay tuned for a future Pathzero blog on this). However, large impacts come from organisations influencing their entire value chain to reduce emissions as much as possible. This is possible when an organisation measures its greenhouse gas emissions to understand key areas where reductions can be made.
Many organisations around the world have already set carbon neutral and net zero targets but this is no longer enough. Targets need to be brought forward from 2050 to 2030 and be supplemented by a clear strategy and action plan to achieve real and quantifiable reductions. Instead of just purchasing carbon offsets, organisations need to focus on impactful decarbonisation strategies to reduce their own emissions as much as possible.
Innovation and creative solutions to reduce emissions as much as possible are going to become key, especially as government's around the world race to update policy surrounding greenhouse gas emissions. Organisations around the world have been demonstrating amplified levels of resilience in a COVID-19 world and this demonstrates that innovation is possible. We can do this, if we all work together.
How to Get Started
Pathzero supports organisations on their journey to carbon neutrality and net zero. We help organisations focus on not just measuring and offsetting emissions but also reducing emissions as much as possible. Decarbonisation is the best path forward to prevent any further changes to our climate and our Platform supports organisations in developing effective emission reduction strategies.
To learn more about Pathzero, and how your organisation can start its own climate journey now, book a consultation with one of our team.