Pathzero recently attended the first Australian Investment Council event for 2023 and launch of its new ESG Resource Guide to advance ESG within the private capital industry. The event revealed practical ways that asset owners and managers can embed climate considerations into investment decision making, no matter where they are at in their journey. Here we share our top learnings.
---
Pathzero Co-Founder and CEO Carl Prins participated in an event panel discussion, 'Embedding climate risk management and reporting throughout the investment lifecycle'. Kate Webster (Aware Super) and Malcolm Thornton (CEFC) joined Carl, with pre-recorded contributions from Natasha Morris (Adamantem Capital) and Joshua Holbrook (KPMG).
The panel was moderated by Mark Spicer, Partner for Climate Change and Sustainability at KPMG, and presented a wide-ranging conversation about climate reporting, asset owner expectations, and the technology and tools available to the private capital community.
Here are our top learnings from the panel discussion.
1. Regulation is coming, but it should be the investment analysis – and the risks and opportunities it highlights – that drives the integration of climate risk into the investment lifecycle.
Natasha described how Adamantem has incorporated climate risk into its investment processes since 2020, as it enables better investment decisions.
She emphasised that the market is moving very quickly, meaning that asset managers will need to consider adopting the ASIC-endorsed Task Force on Climate-Related Financial Disclosures (TCFD) – which pushes beyond disclosure to climate strategy, risk, and governance globally and in Australia – and other leading frameworks and standards.
However, Natasha does not believe that compliance should drive the climate agenda – but rather, the risks and opportunities highlighted by the investment analysis.
In the Q&A session, Samantha Bayes from Roc Partners strengthened this point, emphasising that asset managers that can show a strong ESG implementation process are more likely to attract investors that have clear ESG investment criteria.
In contrast, asset managers that do not have a strong ESG policy are finding it increasingly difficult to attract capital.
Samantha also highlighted recent research that shows ESG is driving better investment decisions, with deals increasingly not going through in the final stages of the investment process due to ESG factors.
2. Public net zero commitments are beginning to have a significant impact on the need for private capital investment firms in Australia to measure their financed emissions.
Carl highlighted that although there is some pressure coming from EU-based asset owners, the biggest driver for measuring financed emissions is net zero statements.
Asset owners and managers want to ensure the statements they make are credible, and that there is rigour behind them.
This presents a significant challenge for asset owners and managers with investments in private markets due to the lack of data available to them.
In response to this challenge, Carl highlighted that collaboration between asset owners, asset managers, and their portfolio companies will be key in creating access to company-specific data. This data will strengthen confidence that public statements are based on accurate information.
3. We need to recognise – and support – asset managers at different stages of their climate journey.
There was recognition that different private capital participants are at different stages of their ESG journey. 
As a whole, the industry is working through how to manage climate risk, protect the value of investments, and realise opportunities to create value.
Kate described Aware Super's approach to this diversity, which is to acknowledge that asset managers may be at different points on their climate journey – so it is important to not to apply a 'one size fits all' approach.
Rather, Aware Super encourages alignment around a 'climate risk philosophy'. This philosophy emphasises an expectation of asset managers to be proactive about climate risk, and to understand how climate risk is incorporated into their investment decision making.
Importantly, numerous resources have been developed to support asset managers with this in mind.
The Australian Investment Council developed the ESG Resource Guide as a helpful starting point for its members, including asset managers, no matter where they are on their climate journey. The guide aims to assist them in understanding, considering, and embedding environment, social, and governance (ESG) policies and practices across their business.
Josh also provided an overview of a recently published resource, TCFD Implementation: Considerations for Private Equity, a collaboration between KPMG, Initiative Climat international (iCI) and the British Private Equity & Venture Capital Association (BVCA).
The resource supports private equity firms in their climate journey and was developed in response to calls for practical guidance on climate disclosures that consider the specific context of investors in private markets – as well as the diversity in approaches to climate across firms.
The guide acknowledges that approaches to climate change vary across private markets firms. Therefore, the guidance provided for each TCFD pillar is split across three bands of ranging complexity and sophistication.
4. Private capital asset managers should not allow perfection to become the enemy of progress.
Throughout the event, a major theme that emerged was the importance of 'getting started', with the recognition that data quality can be improved over time.
Kate highlighted that the absence of perfect data should not prevent asset managers from starting their climate journey and commented that this was the biggest message she wanted the audience to take home with them.
This is an area where technology solutions such as Pathzero have a critical role to play. The Pathzero platform – Pathzero Navigator – allows asset owners and managers to gain an initial 'snapshot' of their financed emissions.
Asset owners and managers can then improve their Partnership for Carbon Accounting Financials (PCAF) score over time as they start to engage their portfolio companies and access company-specific carbon data.
We would like to thank the team at the Australian Investment Council and the panellists for an insightful discussion. We look forward to supporting the efforts of its ESG Advisory Committee as it continues to support private capital investment firms in embedding ESG policies and practices across their businesses.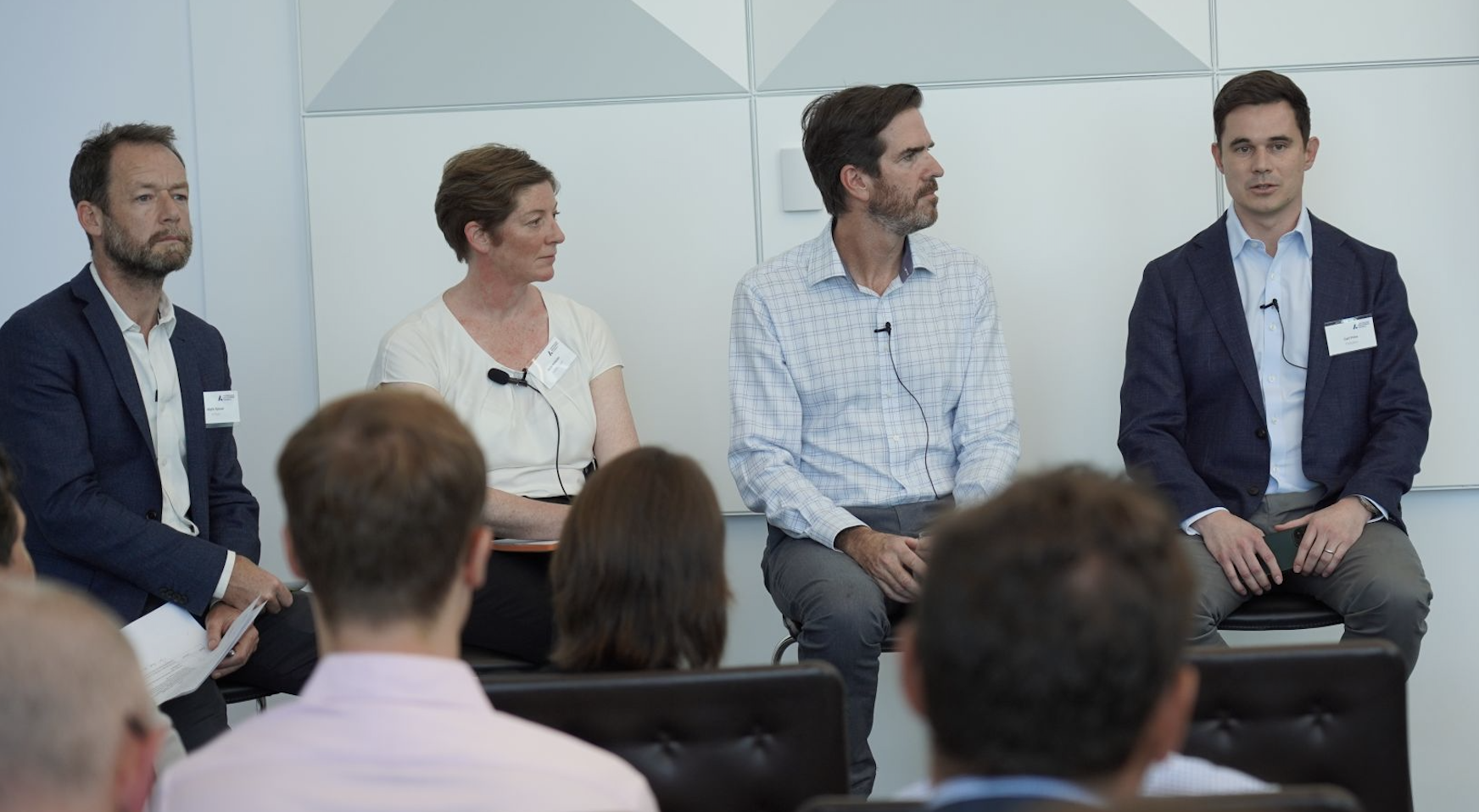 Mark Spicer (KPMG), Kate Webster (Aware Super), Malcolm Thornton (CEFC), and Carl Prins (Pathzero) in the recent Australian Investment Council panel discussion, 'Embedding climate risk management and reporting throughout the investment lifecycle'.
About the Australian Investment Council
The Australian Investment Council is the peak body for private capital in Australia and has 200+ members who work to build strong businesses that support our communities, create new employment opportunities, and grow our nation's economy.

Members of the Council comprise the leading domestic and international private capital firms operating in Australia, and span private equity, venture capital, private credit, family offices, superannuation and sovereign wealth funds as well as leading financial, legal, and operational advisors.

Investment members directly or indirectly employ close to 500,000 people across the economy, contribute almost three per cent to GDP, and support entrepreneurship and local capability by investing in Australian industries and businesses.
Request a consultation
Are you interested in measuring and managing the carbon emissions of your organisation or investment portfolio? We'd love to hear from you. Reach out today for a free consultation to discuss your climate goals and how we can best support you.