The International Sustainability Standards Board (ISSB) has issued its inaugural standards, marking the next significant leap in sustainability-related disclosures in capital markets worldwide.
In this introductory guide, we look at what the ISSB is, its standards, and why they matter for investors. We also explore how technology is primed to make it easier for private markets to align investment processes and outcomes with the ISSB standards.
Key sections in this guide
What is ISSB?

The ISSB was established to develop standards for a comprehensive global baseline of sustainability-related financial disclosures for capital markets.
The ISSB was formed by the IFRS Foundation, a not-for-profit organisation that develops high-quality, understandable, enforceable and globally accepted accounting and sustainability disclosure standards.
What are the ISSB standards?
The ISSB standards are designed to meet the information needs of users of financial statements, including asset owners and asset managers.
The first two standards developed by the ISSB, issued in June 2023, are:
IFRS S1 General Requirements for Disclosure of Sustainability-related Financial Information (IFRS S1): Sets out overall disclosure requirements for sustainability-related financial information.
IFRS S2 Climate-related Disclosures (IFRS S2): Sets out disclosure requirements for climate-related financial information.
Both standards set out requirements that are built on, but go further than, the four pillars and 11 recommendations of the Task Force on Climate-related Financial Disclosures (TCFD).
These pillars are governance, strategy, risk management, and metrics and targets.
"The ISSB Standards have been designed to help companies tell their sustainability story in a robust, comparable and verifiable manner. We have consulted closely with the market to ensure the standards are proportionate and will result in disclosures that are relevant for investment decision-making." -Emmanuel Faber, ISSB Chair
Through the ISSB's extensive consultation process, the standards have built strong support from business sectors, government and regulators and others around the world including:
International Organization of Securities Commissions (IOSCO)
Financial Stability Board
G20
G7leaders
How ISSB leverages standards and frameworks
To reduce implementation costs for companies that already report information using other frameworks or standards and streamline sustainability disclosures, IFRS S1 and IFRS S2 are built on and incorporate:
TCFD pillars and recommendations

Sustainability Accounting Standards Board (SASB) Standards

Climate Disclosure Standards Board (CDSB) Framework

Integrated Reporting Framework

World Economic Forum metrics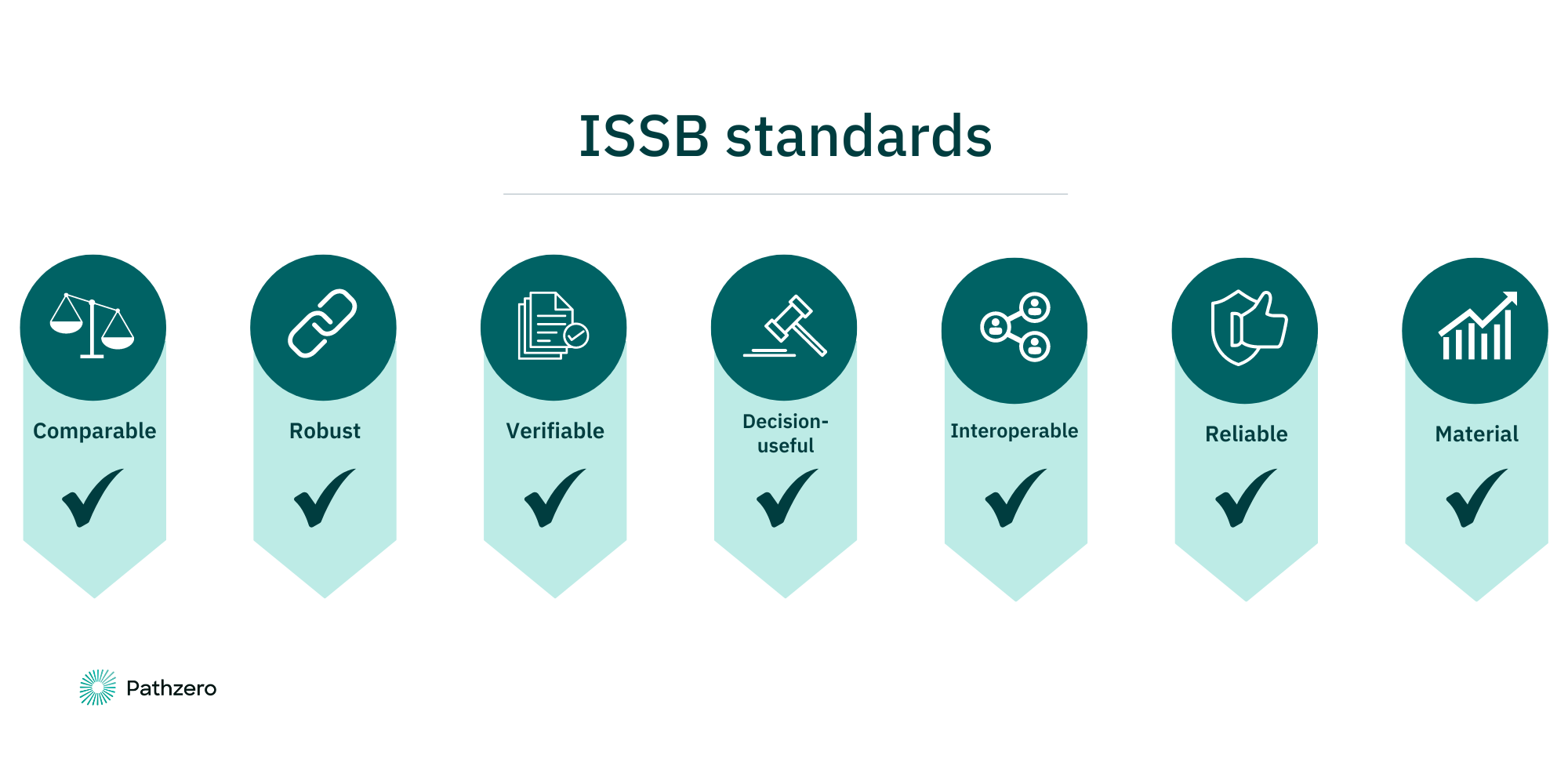 Sustainability-related financial disclosures
IFRS S1 requires companies to communicate the sustainability-risks and opportunities they face over the short, medium, and long term, with an emphasis on information that could reasonably be expected to affect the company's prospects.
This includes a company's cash flows, its access to finance, or cost of capital over the short, medium or long term.
Importantly, IFRS S1 also sets out how those disclosures relate to a company's financial statements. The standard has been designed so that the sustainability-related financial disclosures can be included as part of general-purpose financial reports.
Climate-related financial disclosures
IFRS S2 sets out specific climate-related disclosures and is designed to be used with IFRS S1. When meeting the requirements in IFRS S1, a company applies IFRS S2 to disclose information about climate-related risks and opportunities.
Like IFRS S1 disclosures, IFRS S2 disclosures are based on risks and opportunities that could reasonably be expected to affect the company's prospects.
The standard includes illustrative metrics that are tailored to industry classifications. These are built on the industry-based SASB Standards.
Climate-related risks and opportunities
Climate change creates both risks and opportunities for companies. ISSB leverages the TCFD architecture of climate-related risks and opportunities.
Risks
Companies can face risks from the transition to a lower-carbon economy. These can be classified in four ways, noting this list is not exhaustive:
Policy and legal

Technology

Market

Reputation
Companies can also face physical risks, categorised in two ways:
Acute risks such as extreme weather events.

Chronic risks such as sea level rise.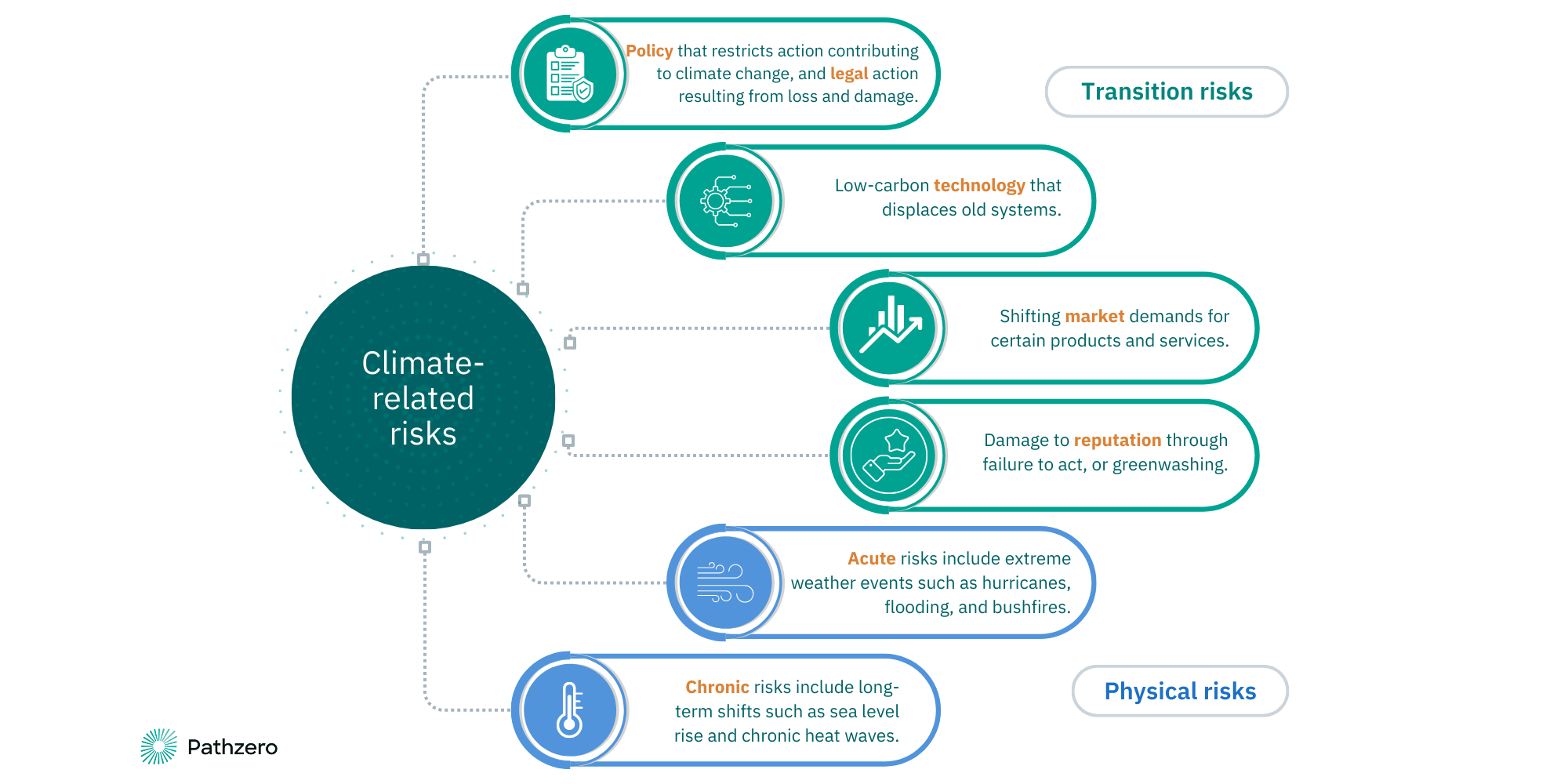 Opportunities
In addition to climate related risks – which often have a converse opportunity for those that can take advantage of disruptions – climate-related opportunities are also disclosed through ISSB.
These opportunities should not be considered as exhaustive and include:
Resource efficiency
Energy sources
Products and services
Markets
Resilience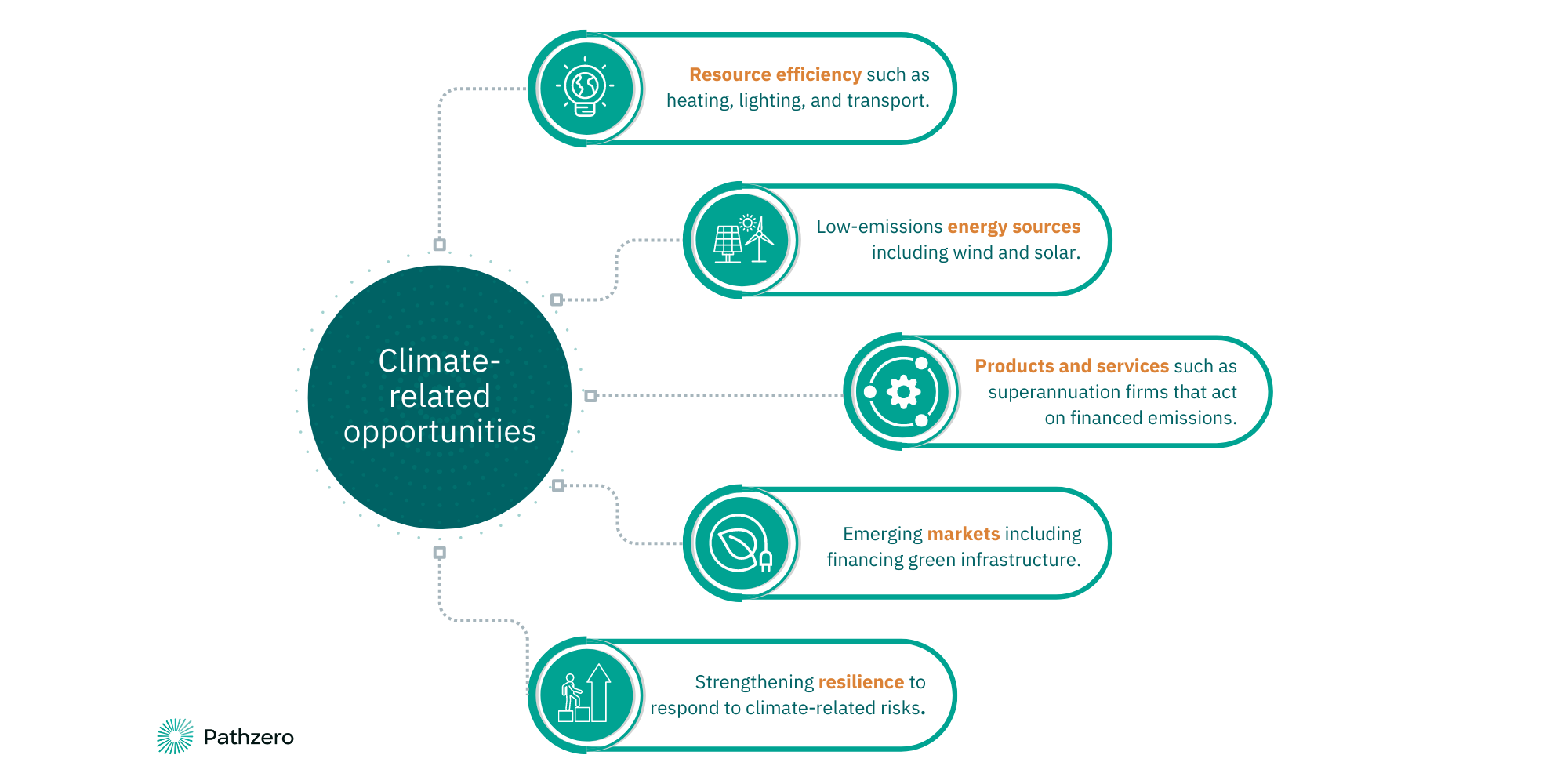 What are the benefits of ISSB standards for investors?
For investors, the ISSB's role is crucial. Its standards fill a longstanding gap in the market by providing investors with robust, comparable, and verifiable sustainability information about companies to support investment decision-making.
Sustainability reporting through voluntary standards and growing requirements has become increasingly fragmented. There are more than 300 mandatory reporting schemes, and more than 200 voluntary reporting schemes in use.
This adds cost, complexity and risk for companies and investors.
In this landscape, investors find it difficult to obtain decision-useful, reliable and comparable sustainability-related information. This information is crucial to understanding sustainability-related risks and opportunities when making investment decisions and comparing companies.
However, with the release of IFRS S1 and IFRS S2 companies now have a single baseline to provide information about sustainability-related risks and opportunities that is useful for investors' decision-making.
The ISSB standards are likely to provide four key benefits for investors.
The four key benefits of ISSB standards for investors



1. Consistency and comparability
2. Better risk assessment
3. Informed decision making
4. Improved transparency and accountability
These key benefits will help investors to avoid costs related to the inefficiencies of manual data collection, management, and analysis of sustainability-related financial disclosures. This may also support them in managing their financed emissions.
The ISSB also expects companies that apply IFRS S1 and IFRS S2 will benefit from using a global disclosure baseline.
The standards are likely to improve interoperability for companies among other sustainability reporting frameworks and across jurisdictions, helping companies streamline their sustainability reporting processes.
They are also likely to enable greater transparency of information, resulting in improved access to capital, governance and strategy for companies.
Are ISSB standards mandatory?
The ISSB does not have the right to mandate the application of the standards. However, jurisdictional authorities can decide whether to require companies to apply the ISSB standards.
Any additional jurisdictional requirements can be built on top of this global baseline if needed to meet public policy or broader stakeholder needs.
Companies can individually also choose to apply the standards.
Aligning Australian standards with ISSB
In June 2023 the Australian government closely followed the ISSB's announcement with a consultation for how and when ISSB-aligned requirements could apply in Australia. A proposed roadmap and a phase-in timeline were released
The rules would apply to the largest companies from 1 July 2024, and then expand to smaller companies over the following three years.
The proposed Australian rules are largely aligned with the baselines released by the ISSB, and TCFD.
Supporting mandatory accounting standards
The information required by the ISSB Standards is designed to be provided alongside financial statements as part of the same reporting package.
ISSB Standards have been developed to work with any accounting requirements, but they are built on the concepts underpinning IFRS Accounting Standards, already required for use by more than 140 jurisdictions. 
Learn more about ISSB
The IFRS Sustainability Standards Navigator will help you to find standards, accompanying guidance for each standard, and industry-based guidance for IFRS 2 including the financial sector.
This Effects Analysis will build your understanding of the likely benefits and costs of IFRS S1 and IFRS S2, for both investors and companies.
The ISSB's responsibilities do not stop at standard setting. 
At COP27, the ISSB announced plans for a capacity building partnership programme, helping to establish the necessary resources for high quality, consistent reporting across developed and emerging economies. 
The Pathzero solution
Sustainability and climate-related financial disclosures in line with IFRS S1 and IFRS S2 in private markets is set to rise in Australia and globally.
However, one challenge to broad uptake is a lack of standardised carbon data from portfolio companies, and the lack of in-house expertise. 
Pathzero is helping to overcome these barriers by uniting private market participants on a common platform.
We bring asset owners, asset managers and portfolio companies onto a shared platform that offers emissions calculations aligned to leading industry standards including the Greenhouse Gas Protocol, and the Partnership for Carbon Accounting Financials Standard.
The Pathzero platform facilitates secure carbon data sharing between parties, enabling collaboration and data-informed decision-making to reduce emissions.